So, you're moving into your very first apartment. Congratulations! That is indeed a big step. Moving into your own living space is a big deal. You need a whole lot of confidence, the drive and motivation to live on your own, and the most important thing—a list of essentials to make sure you have everything you need when you move in.
While it can be a lot of work, it is also one of the most exciting things in life! And while we are too much caught up with the excitement, we tend to forget the most important things. So here we give you a list of apartment essentials. Are you ready?
Welcome area essentials
Yes, as weird as it sounds, you do have to prepare for your welcome area since this is the first area your guests would see. Make your guests feel welcome even without words. These items could include the following:
– a welcome mat
– a rug
– wall hooks for jackets or hats
– a fun picture or quote that will make your guests smile instantly
– shoe rack
Living Room essentials
Now that you have what you need for your welcome area, we move on to the space where guests spend time the most– the living room. Items under this list would really depend on the kind of style you want. For as long as you have these, you make that first visit comfortable already.
– a comfy couch
– throw pillows
– chairs, an accent chair
– coffee table
– Television
– Stand for a TV
– Lamps
– artworks
– curtains
Dining Room Essentials
Done with comfort, now food. The dining room is where you and your friends get to enjoy a meal together. The essentials include:
– Dining table
– chairs
– table cloth or placemats
– trivets
– candle holders (for that special night)
Kitchenware
One of the perks of having your own living space is you get to cook whatever you want, whenever you want. Even if you aren't really the cooking kind of person, you will always need your basic kitchenware. Who knows, in a week or two, you will find yourself cooking not only for yourself but for friends coming over.
– Pots and Pans: one small pot, one large pot, one medium or large frying pan
– Oven safe dish
– Baking sheet (yes, for baking cookies maybe)
– Dishes: Plates and bowls ( two or three of each would do)
– Flatware: Forks, knives, spoons
– Drinking glasses
– Mugs
– A good set of knives
– cutting board
– measuring cups
– dish towels
– dish drying rack
– garbage can
– and never forget, a coffee maker or French press
– food for 2 or 3 days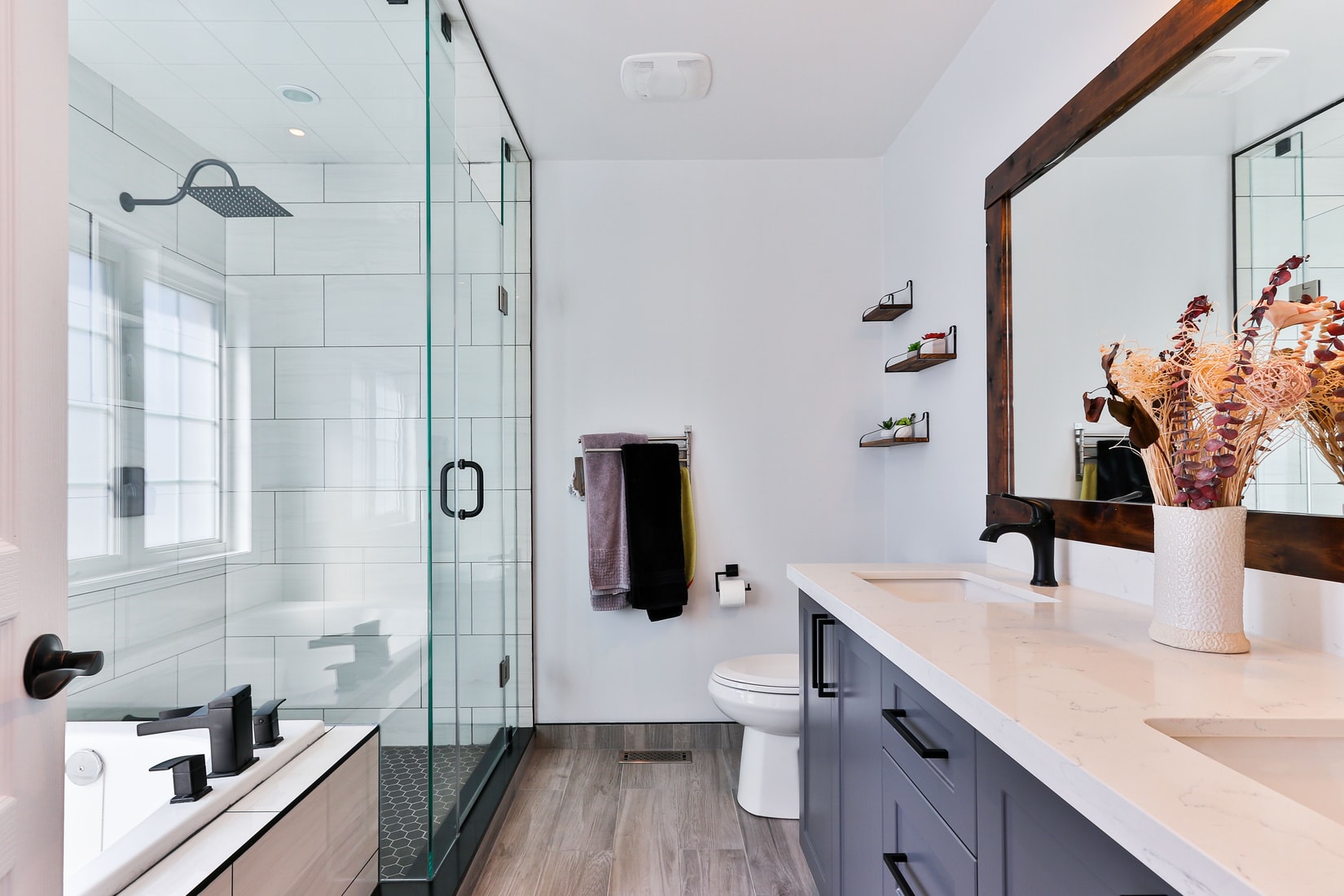 Bathroom Essentials
Let's talk about the bathroom. For most people, this is one of the most important spaces that deserves a lot of attention. It shows how much homeowners care for their hygiene and for their living space as well. Before you move in, make sure you have everything on this list.
– Shower curtain
– Shower caddy
– mirror
– Toiletries (shampoo, soap, toothpaste, hand soap, lotion, and others you might want to have)
– Toilet Paper
– Hand towel
– Toilet brush
– Toilet plunger
– Bath mats
– trash can
– air freshener
Bedroom Essentials
This part of your home is mainly just for you and your satisfaction. You know what you need best. But make sure you have these:
– bed (of course)
– mattress
– sheets and comforter, extra blankets
– pillows
– nightstand
– lamp
– dresser
– hamper
– hangers
– trash can
– curtains
Miscellaneous
The items that fall into this list are what we forget most of the time. These are cleaning materials, things we use for laundry, things we might need for emergencies or items that we might need even every day, and just don't notice.
– cleaning supplies (sprays, gloves, mops, rags, and others)
– laundry soap, fabric softener, bleach
– garbage bags
– vacuum cleaner
– broom and dustpan
– basic tools (hammer, nail, screwdriver, duct tape, wrench, masking tape)
– storage boxes
– flashlight
– extension cords
– first aid kit
– light bulbs
– pen and paper
– candles
– matches
There you have it. A list of apartment essentials that would make your life a lot easier when you move in. You can even be creative about it by adding those you think are must-haves. The most important thing here is during the first few days of your stay, you won't find yourself going in and out of your apartment buying these things. Instead, you spend your time enjoying every area of your new home.