A number of words that describe Japanese design are "simple," "practical," and "uncluttered." This is why those who have embraced the minimalist lifestyle love Japanese-style interiors. Not only does this style feel balanced and clean, but it also contributes to people's well-being. And since the kitchen is one important area that has much to do with wellness, it would be a great idea to incorporate some Japanese style apartment interior design in that part of your home.
Japanese Style Apartment Interior Design: Kitchen Basics
The look and feel you need to go for in a Japanese kitchen is "peace and harmony." Since the kitchen is one of the highest traffic areas in your home, you need that peaceful vibe and Japanese kitchen design exudes just that through a balanced and clean look. To get that authentic feel of a classic Japanese kitchen, there are certain design and styling concepts you need to understand and take with you in design decisions you need to make.
Design Concept #1: Wabi-Sabi
Design Concept #2: Shibui
Shibui is a Japanese Zen principle that reflects modesty and minimalism. You need not be flashy or elaborate on anything related to your lifestyle. In a Japanese kitchen, therefore, capitalize on function and organization, having only very few details and a small range of colors. Your kitchen space should not be overcrowded. Cabinets are simple, which can store everything you need in it. As to shapes, you need to have clean lines. This principle applies to the plates and cutlery you are going to use. Go for simple white plates and steel knives, spoons, and forks. Sinks are also rather large because it serves as the main focal point of your kitchen. How large the sink will be will also break the monotony of the whole look.
Design Concept #3: Kanso
This design trait means keeping with is really necessary and getting rid of the non-essentials. Put simply, you need to clear out your kitchen of all rubbish and clutter. There should not be any visible mess. This is where storage and proper organization of items come in. Yes, you have cabinets, shelves, and drawers, but the question is, are they organized? Do you absolutely need everything that is in those storage compartments? If not, then you know what to do. Your kitchen should be free from extravagant presentations. Instead, choose decor that is functional and necessary.
Design Concept #4: Shizen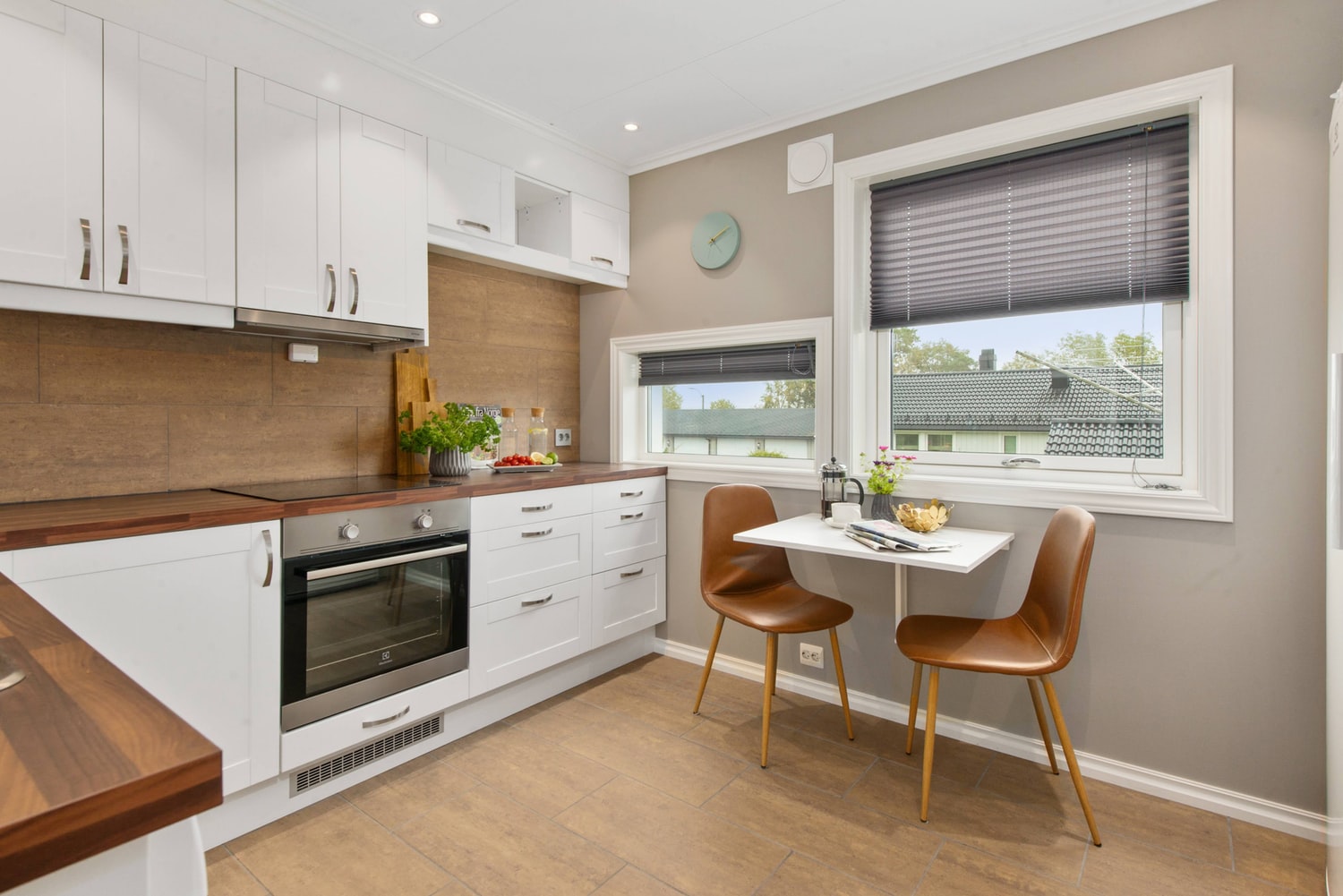 Shizen is the naturalness and being one with nature. Everyone knows that nature promotes health and vitality. It is also the natural touch in home interior design that is very Japanese. Everything you see in a Japanese-inspired space should bring your closer to nature. You begin with earthy tones and neutral colors like beige or stone. Of course, this does not mean that all you see is white. Adding hints of color like red or green is highly recommended. Wood, ceramic, and stone are used for flooring instead of vinyl. You will expect to see porcelain counters. Most of all, add green, leafy plants inside the kitchen to make things become all the more soothing
Design Concept #5: Shoji
Shoji screens are the classic Japanese sliding doors. These save space compared to the hinged doors. Shoji screens allow natural light to enter every room in the house, the kitchen included. They are airy, inexpensive and lightweight because they are made with translucent paper and wood. In the kitchen, you can use this design idea by adding panels or blinds to your windows. You can also use wooden sliding doors with translucent glass panels. Choosing wooden frames with glass inserts as entry doors, pantry doors, and overhead cabinet doors will bring that same Shoji feel. These design ideas allow light in and save space.
HDesign Concept #6: Fukinsei
Zen aesthetics includes Fukinsei which embraces asymmetry, irregularity, and imbalance. Although this may seem contradictory to what we know to be Japanese, this principle celebrates the idea that there is always something beautiful and engaging about asymmetrical balance. It is like pairing symmetry with irregularity. You need to break from the normal and appreciate the imperfections around so you don't become monotonous. You can apply this concept in the dining room where all the chairs around the table are different in style and color. This asymmetry can also be seen in a kitchen layout. It is that kind of simple element of surprise you need sometimes.