Trendy Kitchen Makeover Tips You Should Try
Most of the important things that represent the idea of home and family are done in the kitchen. So, of all the living spaces in a home, it is the kitchen that should look and feel vibrant. To make achieve this aesthetic, the element of style should not be compromised. House Beautiful says that kitchen design nowadays places personalization in the limelight. So, from the choice of color, materials, and appliances, there are ways to be trendy when it comes to giving your kitchen a makeover. From Boho to the more Traditional, here are some helpful tips for achieving the best kitchen design that fits your preferences in 21st-century living.
If you'd like a Bohemian Vibe in the kitchen, choose browns, golds, and organic materials.
Combining these three statement colors and materials are a big thing nowadays and actually described as the "boho look," according to Papilio Bespoke Kitchens. Using neutral tones and organic textures encourage warmth in the environment with a golden 70's feel. So, with this theme, style and substance win. In addition, Papilio says that going boho in the kitchen is adaptable with other colors and comes "hand-in-hand with good quality and timeless design" which is what a kitchen ought to present.
When it comes to lighting, be traditionally modern.
Lighting is key to good design. Traditionally, a line of three pendant lights remains its popularity and is always a stunner in a rectangular kitchen. Simon Wallis-Smith of Fritz Fryer says that these pendants work well as task lighting so complementing them with LED strips on the underside of eye level cupboards to illuminate work surfaces. Lighting under the counters and cabinets are also a great way to change the kitchen's atmosphere. Concealed LEDs are highly sought after and can be placed under worktops for illumination and contrast to the classic lighting features.
Invest in Smart Appliances.
Anyone considering a kitchen upgrade should invest in state-of-the-art home appliances. There are Wi-Fi-ready appliances that can be controlled from anywhere in the house. There are also multifunctional features and equipment that you add to your modern kitchen. Installing a multi-purpose integrated trough sink is also a good idea because this can be used to chill anything from oysters, herbs, and champagne with the utmost class. Kitchen International mentions steam ovens and vacuum drawers that make cooking easier and quicker without compromising the flavor of the food. Papilio also suggests integrating music and lighting in the kitchen that can be controlled in a hub. Kitchen work surfaces and also be custom-made to have mobile phone charging and ports for iPads that have recipes installed in them versus the traditional cookbook library on kitchen shelves. To this, we say, why not? Right?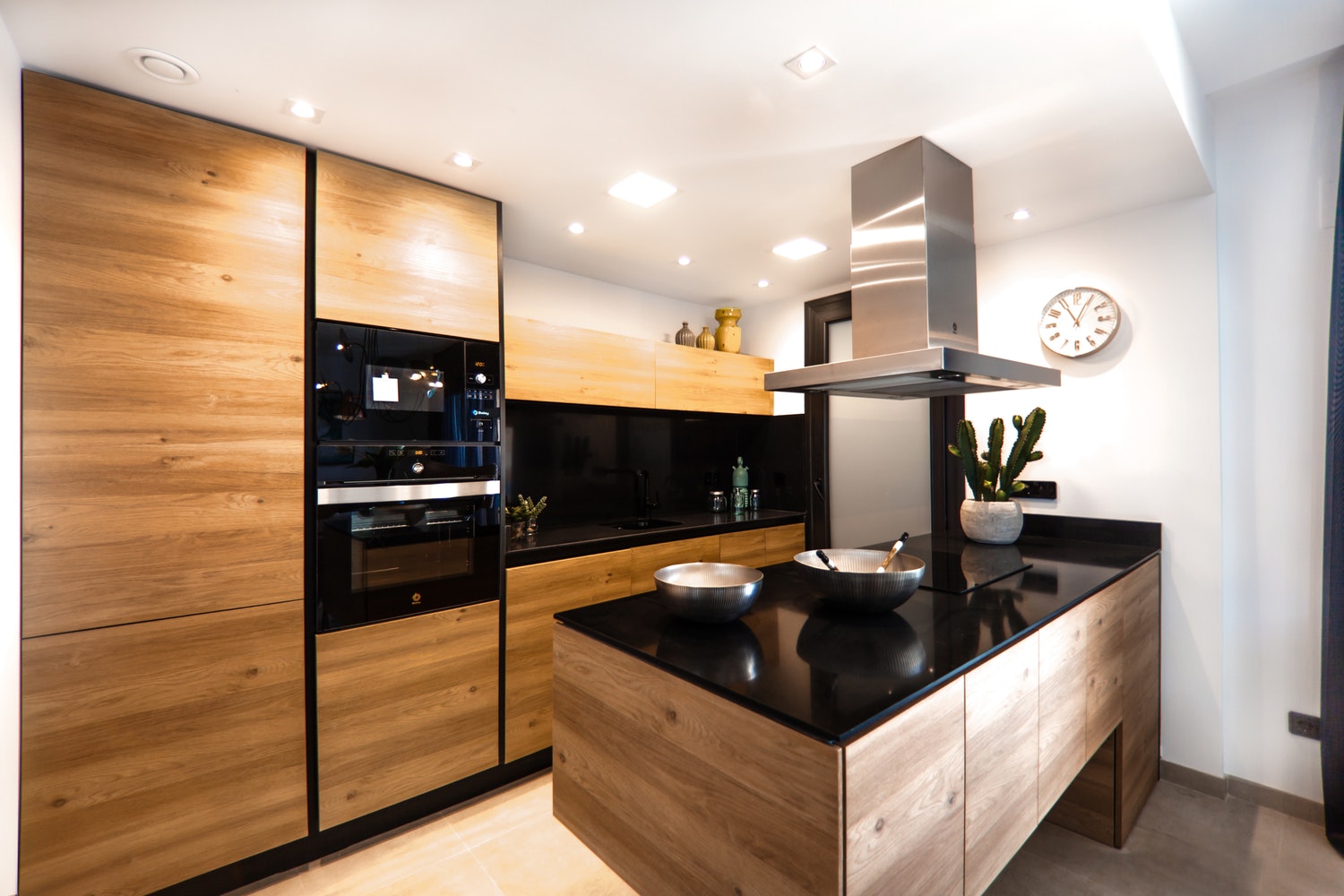 Try the Industrial Look and Go Urban in kitchen design.
The industrial look features the stylish concrete effect when it comes to finishes. The strategic use of the color black, brickwork, structural beams and metal frames and fixtures are also central to such a theme. The key to the Industrial theme is to be a minimalist. Prefer clean lines, glossy acrylic, metal or exotic wood like bamboo or wenge. Have streamlined cabinets installed without the usual knobs and handles. Instead, go for magnetic touch options. Choose a sleek countertop that can be made of concrete, recycled glass, quartz, stainless steel, copper, pewter, zinc, bronze cast or repurposed lumber.
All these trendy things to have and do certainly add that wow-factor in our next kitchen upgrade.